Non-contact boxing to help people with Parkinson's fight back against the disease
We are learning every day that there are ways in which people with Parkinson's disease can enhance their quality of life and even build strength, flexibility and speed. These classes have proven that anyone, at any level of Parkinson's, can lessen their symptoms and lead a healthier and happier life.
Parkinson's disease is a degenerative movement disorder which can cause deterioration of motor skills, balance, speech and sensory function. Parkinson Canada estimates there are more than 100,000 Canadians who have Parkinson's Disease and that number continues to grow each year.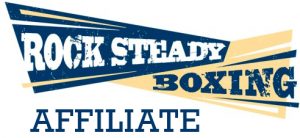 Rock Steady Boxing is the first boxing program in Canada, with the mission to empower people with Parkinson's disease to "fight back". Exercises vary in purpose and form but share one common trait: they are rigorous and intended to extend the perceived capabilities of the participant.
How it works
Rock Steady classes are divided into four levels based upon each person's unique Parkinson's symptoms and overall level of fitness.
PD Levels:
PD 1+2 are classes for people with less advanced symptoms of Parkinson's disease.
PD 3+4 are classes for people with more progressed symptoms of Parkinson's disease.
ALL PD are classes for people with all levels of Parkinson's disease.  This is the option offered at our YMCA.
All potential boxers must complete a 90-minute application and assessment process. This will assist the coaches in determining the class placement that would be of greatest benefit to the boxer. 
Fees
If the Boxer is a Y Member the classes are included in the membership. 
Public prices are paid per class at the Day Pass rate (includes access to our entire HFA Facility)
Both Members and Public must pay for the Initial Assessment: $50 + tax, which includes a boxing kit (boxing gloves, gel hand wraps)
Getting Involved
Participants are welcome to attend our classes at any time to observe, but each person will receive an assessment before beginning the classes to ensure that they are assigned to the appropriate level. Each participant must have a Physician Medical Release form signed prior to the initial intake.
To get started, contact us at diana.vandermeer@osgb.ymca.ca or call 519-376-0484 ext. 215.
About Rock Steady Boxing
Founded in 2005, Rock Steady Boxing is a unique program that gives Parkinson's patients a chance to fight back against their invisible adversary. There are over 400 Rock Steady affiliates all over the world helping Parkinson's disease patients have better days, one punch at a time.