Partnered with the Board of Directors, the YMCA of Owen Sound Grey Bruce Leadership Team is committed to building healthy communities.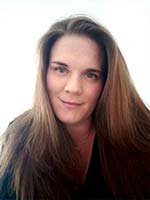 Sarah lives in rural Grey County where she resides with her family and serves her local community, living the YMCA values of caring, honesty, respect and responsibility. With over 15 years of operational and strategic leadership experience in health and social services, and having been responsible for local, regional, provincial and nationally-renowned programs, Sarah is an experienced and enthusiastic community leader who is known in the Grey Bruce community as someone who is passionate about building strategic and collaborative relationships that drive efficient, effective service delivery and positive outcomes for clients, staff and the communities at large. Sarah holds a Master in Nursing degree (University of Toronto) and is a Certified Health Executive (Canadian College of Health Leaders).
Gil Zulueta joined our YMCA in July 2021 as Director of Finance, overseeing the Finance department and providing support to the Finance & Audit Committee of the Board of Directors. Gil most recently worked for the Royal Ontario Museum and ROM Foundation as the Manager for Finance and the Enterprise Resource Planning System for 5 years. Prior to this, Gil was the Manager for Finance and Business Systems at the Ontario Institute of Technology in Toronto for 5 years, acted as the controller for the Toronto Region Research Alliance for 2 years, and was the lead Financial Analyst for the University Health Network Research Financial Services for 7 years. Prior to 2001, Gil held several increasingly responsible positions as an internal auditor, finance manager, controller, and business manager in large, complex, and international corporations, an international American school, not-for-profit institutions, and public accounting practices. Gil is a Chartered Professional Accountant (CPA), Certified General Accountant (CGA), and Certified Public Accountant (CPA), has training in numerous financial programs, and has Lean Sigma training.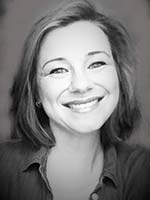 Director of Human Resources and Health, Fitness & Aquatics
Carrie joined the YMCA of Owen Sound Grey Bruce in 2017. After many years working in the private sector, Carrie fell in love with the non-profit sector while volunteering with Home and Community Support Services – Day Away program in Meaford. She leapt at the chance to join the YMCA when the opportunity was presented. Carrie has over 20 years' Human Resources experience overseeing national, and international Human Resources operations, strategy, and organizational growth. She is a strategic, forward-thinking leader, and life-long learner committed to giving back to her community through her work. She is a strong believer in the mind-body connection and is grateful to be able to support community members, grow in spirit, mind, and body. Carrie holds a Bachelor of Arts in Sociology from McMaster University, a Post Graduate Diploma in Human Resources Management from Humber College, and a certificate in Human Resources Law from Osgoode Hall Law School. Carrie is a Certified Human Resources Leader and former certified Global Human Resources Professional. Carrie is a member of the Human Resources Professional Association – Grey/Bruce and 100 Women Who Care – Grey/ Bruce. Carrie and her husband have two grown daughters and reside in the Municipality of Meaford with their two fur-babies (aka "the Ding-Dongs"). She enjoys camping, reading, the arts and the many outdoor activities Grey Bruce counties offer. She and her husband also enjoy being billet parents during hockey season (Go Attack Go!).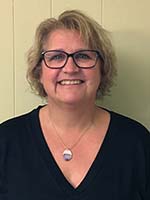 Cyndy has been a long-time leader in the child care sector. A Registered Early Childhood Educator (RECE), Cyndy has worked in the child care field for over 33 years, including 29 years working for the YMCAs of Cambridge & Kitchener-Waterloo, holding the positions of Supervisor, Director of Operations, and eventually becoming General Manager where she provided strategic leadership and tactical oversight of 15 licensed child care and youth development programs. Cyndy also provided leadership for the Student Nutrition Program that included contract oversight of delivery partners on behalf of the Ministry of Children, Community and Social Services. Cyndy has also served her profession as an elected council member of the College of Early Childhood Educators that has included chairing the Registration Committee and the Finance and Audit Committee. On a personal note, Cyndy and her husband John are parents to 4 adult children and they have 3 beautiful granddaughters. As a family, they love spending time on the waters of Georgian Bay; boating, swimming and exploring the shoreline.
Born in Welland and raised in rural Niagara with two sisters and a brother, Nic gained an appreciation for the outdoors skating on frozen puddles in the driveway and collecting sticks with the family's yellow lab Skeena. After high school and a brief manufacturing stint in Hamilton he went on to study Geography and Outdoor Recreation at Lakehead University in Thunder Bay, Ontario eventually earning a Bachelor of Arts degree. During this time, he worked at Old Fort William and became an accomplished builder of birch bark canoes. Returning to Niagara he found work in the tourism industry in which he supervised and performed in up to 600 live shows a season. This work also certified him as a commercial scuba diver and supplied him an opportunity to aid staff veterinarians in procedures with a variety of species from bears to belugas and bison. In the fall of 2012, he became aware of an opportunity to live and work in beautiful Grey Bruce and moved to Annan with his wife and two children and joined the YMCA as Maintenance Supervisor in the brand-new HFA center.
Director of Community Initiatives & Employment Services
Matt came to the YMCA from CMHA Grey Bruce Mental Health and Addiction Services where he worked as the Director for Housing and Outreach Services. Prior to moving with his family to Grey Bruce, Matt lead the high and medium support housing services within the Addiction and Mental Health portfolio of St. Joseph's Care Group in Thunder Bay for 11 years. Matt holds a Master of Social Work degree with a specialization in Organizational and Community Development from Lakehead University, and he also brings with him 20 years of experience in geriatric psychiatry, seniors' health, youth in transition, dementia and responsive behaviours, rural and remote homelessness, supportive housing, supportive employment, health human resource recruitment and retention, quality and risk management, and Ministry funding proposals/managing budgets/reporting. Matt is affiliated with Addictions and Mental Health Ontario and the Ontario Non-Profit Housing Association, and also sits on numerous committees, including the National Alliance to End Rural and Remote Homelessness, Safer Supply Ontario Community of Practice, Grey Bruce Poverty Task Force, and Grey Bruce Mental Health and Addiction Network.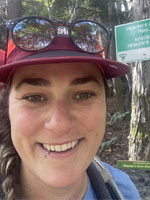 Director of Camp Presqu'ile (Rotary Club of Owen Sound Partnership)
Scotia most recently worked for YMCA Camp Pine Crest in Muskoka, Ontario for 5 years, where she was first the Assistant Summer Camp Director, and then the Summer Camp Director, before she moved into the Acting Program Manager role, where she oversaw both the Summer Camp and Outdoor Education Centre programs and was responsible for a staff team of almost 150 people. She was also the Virtual Summer Camp Director for the YMCA Canada Virtual Camp in summer 2020. Scotia's entire career has been spent in YMCA camps, and she was with Camp Kandalore and Camp Otterdale in progressively responsible positions between 2008 and 2016.
Scotia's educational background is as a Child and Youth Worker, and her love of working with children and youth really shines through! She brings to her new role expertise in: strategic planning; development of camp and outdoor education programs; quality and risk management and working within specific pieces of legislation and program standards; staff recruitment, training and supervision; outcome evaluation; and marketing and communications.