The YMCA developed the first nationally recognized aquatics programs in 1931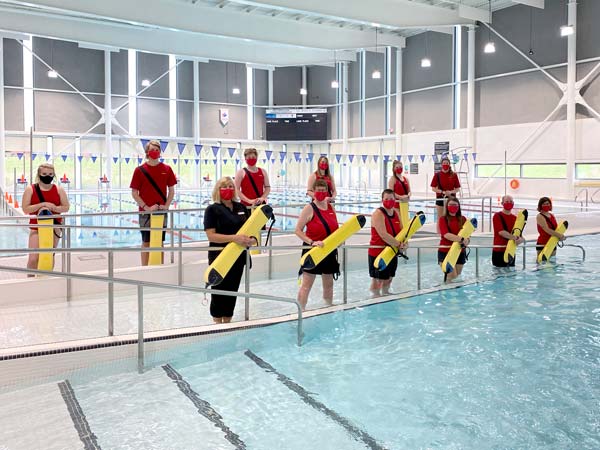 Our Aquatic Certifications provide you with the necessary training to be a lifeguard and swim instructor at any YMCA in Canada.
In partnership with the Lifesaving Society of Ontario, we're proud to offer four levels of certification including Bronze, Lifeguard and Instructor, along with required recertifications.
Registration is required for all Aquatic Certifications. You may register at any time of the year for these courses to be put on a waiting list for the upcoming course.
To learn more about course fees, dates and times, or to register for an upcoming course, visit ACTIVE Net or call Customer Service at 519-376-0484 ext. 0. Full payment is required at the time of registration. Financial assistance may be available; contact our Customer Service team to discuss your options. 
Some of our courses are taught using blended learning. This involves an online component, an in-class component and an in-pool component. Candidates will be required to complete assignments and attend online meetings with the Lifesaving Instructor before the in-pool sessions begin and throughout the course. 
Prerequisites: 14 years old by last day + Bronze Cross and 100% attendance required
This course will challenge those who have taken Bronze Cross but are not old enough to take National Lifeguard. Become better prepared for success on the NL course by trying out all of the NL skills! This course is a requirement for being hired at the Y if you are too young to take NL. Candidates will receive a $20 credit note for use towards future aquatic leadership courses.
Learning Style: Blended learning
Prerequisites: 15 years old by last day + Bronze Cross and Standard First Aid (CPR-C)
National Lifeguard is Canada's only nationally recognized lifeguard certification program. National Lifeguard is a legal certificate for lifeguarding throughout the country. It is the only lifeguard certificate recognized by the Province of Ontario for lifeguarding public swimming pools. Learn more at www.lifesavingsociety.com
Recertification
Requirement: A 'Bubble Buddy' is required for the exam.
National Lifeguard certification is current for two years and is recertified by completing a National Lifeguard recertification exam. All skills learned on original course will be reviewed and are expected to be at standard. Be prepared to swim!
Prerequisites: 16yrs by last day + Assistant Swim Instructor (YMCA or Red Cross), Standard First Aid (CPR-C) and 100% attendance
Learn the theories and methods behind teaching swimming lessons. Refine leadership skills and learn strategies for effective supervision and instruction. To teach swimming lessons at the Y, you must take this course. YMCA Swim Instructors can teach preschool, youth and adult lessons, parented classes and Bronze Star.
Recertification
YMCA Lifeguard certification is current for two years. Register for a recertification course or contact us for details to get recertified.
Prerequisites: 16 yrs + Swim Instructor (YMCA or Red Cross)
This course prepares individuals to organize, plan, teach and evaluate lifesaving and First Aid skills and resuscitation techniques in the Society's Lifesaving and First Aid awards. Successful candidates receive two certification cards: Lifesaving Instructor and Emergency First Aid Instructor. Current Lifesaving Instructors are certified to teach; Canadian Swim Patrol Program, Bronze Star, Bronze Medallion, Bronze Cross, Lifesaving Fitness, Distinction, Basic and Emergency First Aid, CPR.
Recertification
To remain certified, Instructors, Examiners and Trainers must recertify their award within 24 months of the certification or last recertification date. This is done through the Lifesaving Society, learn more here.
A service charge of $10 is applicable to every refund or change in schedule. Program fees are refundable prior to start date of class (less $10 service charge). Aquatic Certifications & First Aid course fees are refundable up to two weeks from start date. Refunds requested within the two-week period prior to the course will receive a credit on account only (less $10 service charge). Refunds will not be granted on or after start date of program except for medical reasons. All refunds for medical reasons require a doctor's note.
If a course says '100% attendance required', do you mean it? Yes! The Lifesaving Society mandates that full attendance is required. Candidates who miss portions of the course will be unable to pass. 
Is the exam date flexible? No. We arrange for a specially-trained Lifesaving Society Examiner to conduct our exams. This is a commitment of time that cannot be made up. Candidates who do not come to the exam will be unable to pass the course.