Our YMCA is a welcoming facility where you can get motivated and achieve your goals. Starting your health and fitness journey can be overwhelming, especially when you're unfamiliar with the space and equipment.
Book an orientation with our staff and we'll guide you through our facility so you're prepared on day one. All Orientations are FREE for members. Orientations can be booked in person at our Welcome Desk or by emailing support@osgb.ymca.ca.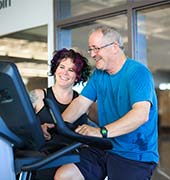 Smart Start: Cardio or Smart Start: Strength
Members: Free / Public: $30
3o minutes-1 hour
Become familiar with the cardio and/or strength equipment in the Fitness Centre, including treadmills, rowers, bikes, ARC trainers, weight machines and the free weight training area.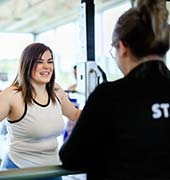 Fitness Essentials Program
Members: Free (Members only)
3o minutes-1 hour
A fitness programmer will work individually with you to create a strength and conditioning Fitness Essentials program customized to help you reach you goals.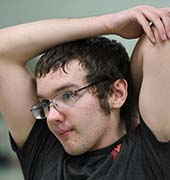 Smart Start: Family
Members: Free / Public: $30
1 hour
Staff walk you and your child through appropriate exercises, equipment use and safety, and discuss gym etiquette. Once complete, children 8-15 years of age will receive a toe tag granting them access to the Fitness Centre to workout accompanied with an adult (one adult 18+ yrs per two children). Children ages 12-15 years must complete Strength Training: Teen to gain unaccompanied access to the Fitness Centre.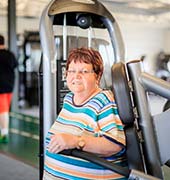 Gravity and/or TRX
Members: Free / Public: $20
30 minutes-1 hour
A guided introduction to our popular Gravity machine and/or TRX system. Learn how to adjust the Gravity machine to use on your own or in a class with confidence. Gain a better understanding of TRX; a suspension training method that targets your whole body using your own body weight.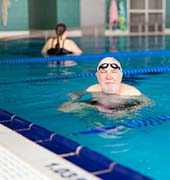 Aquatic Centre
Members: Free / Public: $20
20 minutes
Our Aquatic staff walk you through the change rooms and pools, answering any questions you may have. We'll review the pool schedule and help you find a program that works for you!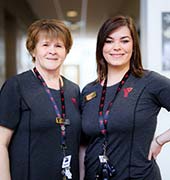 From Pool to Fitness Centre
Members: Free (Members only)
1 hour
Familiar with the pool and ready to explore the Fitness Centre? Join one of our Aquatic staff, along with a Fitness Programmer, in a Fitness Centre orientation session that introduces you to the equipment and programs available.