Our YMCA is the largest provider of child care in Grey Bruce
Our YMCA is the largest provider of child care in Grey-Bruce and Canada's largest not-for-profit provider. 
We know the early years are when the seeds of future success are planted. That's why our programs are based on a curriculum that fosters the physical, mental and social development of your child. We ensure your kids are kept safe and happy while you're at work or taking some much-needed time for yourself.
Our Y offers high-quality programs for toddlers, preschool and school-aged children. At our centres, our highly trained Registered Early Childhood Educators partner with parents to support each child's development and provide families with the security of knowing their child is in a safe and nurturing environment during these formative years.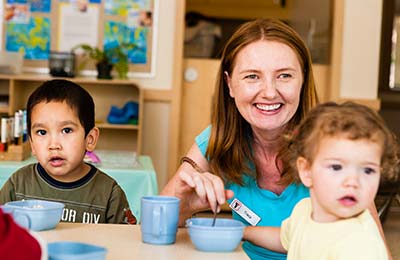 Before and After School Program
Our YMCA A Place to Connect™ curriculum brings a high-quality approach to how we deliver Before and After School Care programs for children 5-12 years old.
We're driven by the child's interests
In both our YMCA Playing to Learn and YMCA A Place to Connect curriculums, there are no pre-determined lesson plans. What happens in each program is driven by what children are showing an interest in at any given time and staff will work with the children to grow their interest and learning about the topic. Materials, props and activities are introduced to enhance these experiences providing opportunities for learning and development.
Have questions? Feel free to reach out to us to speak with a supervisor directly. Contact information for our accounts and billing, and each child care location can be found on our Contact Us page.
"We love the Owen Sound YMCA Daycare. We have never had any problems and my son enjoys going everyday. We will be leaving the daycare very soon as we approach Kindergarten in Sept. and we can honestly say, we are sad to leave. The staff has always been very friendly, great with my child and he has grown so much over the past 3 years. They are like family and we appreciate everything each of them have done for my son's development."
"My girls absolutely love the YMCA After School Program, so much so they are disappointed when they are not the last ones picked up."
" I can't believe how quickly she's adjusted. She took a good two weeks to adjust at her previous daycare and was less than a day with the YMCA, during a pandemic! Please tell all her teachers how much we appreciate them, and thank YOU so much for making this such a smooth transition! We couldn't be happier that she was so welcomed and loved so quickly!"
My children love program! The school age teachers allow the children to explore, do messy crafts and always ensure they incorporate special days, spirit days from school, etc. The teachers truly care about the children, as they ask them about their extracurricular and know when the children have these activities. The YMCA is a great place and we are so lucky to have this program.
I am thrilled with the experience my daughter is having with the YMCA in Port Elgin. The instructors are caring, enthusiastic and show my daughter the love and support every parent hopes for from a daycare provider. She experiences many different activities each day to promote growth and development and she comes home happy and dirty, just as she should. I would recommend the YMCA in Port Elgin to all parents!