Thank you to all participants! The winners are...
50/50 Jackpot winner is…
JASPREET LAMBA $1,155.00!!!!
Art Draw Winners in order are below!  We will be contacting you each via email and phone to inform you of your selected date and to arrange to pick up at the YMCA Health, Fitness & Aquatics facility. Congratulations!!!
As prizes are claimed we will update it here. 
1 CRYSTAL SNEIDER – "WHY I LIKE BACKROADS" by Lesley Banks
2 DENISE REID – "GEORGIAN BAY" by Eleanor Pauling
3 DENISE REID – "OWEN SOUND HARBOUR" by Eleanor Pauling
4 SHAWNA MACIVOR – "BIRCHES" by Lynn Skinner
5 MONIQUE BROWN – "QUIPU" by Gae Trinkwon
6 HEATHER SALERNE – Quartz Necklace by Louise Jarvis
7 GLENDA KERR – "THEY GREETED THE SUN" by Lydia Knox 
8 MONIQUE BROWN – "Poppies" by Elaine Davidson
9 MONIQUE BROWN – "Birch Panel Art Banner"
10 MAGGIE MANN – "Lovely, Dark and Deep" by Z'Anne Keele
11 MONIQUE BROWN – "Copper Blue" by Michael Dunn
12 CHERI ABAZA – "Beautiful Symbiosis" by Gwynda McKee
13 DENISE REID – Pottery Mugs
14 GLENDA KERR – "Archipelago by Pam McGowan  
15 HEATHER SALERNE – "Bejeweled Ring" Art Banner
16 MARGARET BLENDER – "Facade" by Anne Kerekes
17 MONIQUE BROWN – "Fall" Art Banner by Lisa Olsen
18 MONIQUE BROWN – "Resolute" Art Banner by Erika Dick
19 SANDY HAYES – "Serpent" Art Banner
20 ROBERT MACARTHUR – "Gale of Wind" by Cholena Vanderploeg
Thank you for supporting your local YMCA of Owen Sound Grey Bruce! 
We are excited to announce the Art Draw and 50/50, a local fundraiser to support the purchase of accessible equipment for our health, fitness and aquatics facility. 
14 talented local artists have donated beautiful pieces of art created through different mediums and techniques. From paintings to pottery, jewellery and art banners.
Every ticket purchased gives you a chance to win one of (20) twenty pieces of art while also contributing to this community project that will benefit so many for years to come.
Scroll down to see all items up for grabs along with a bio of the artist who kindly donated the piece.
Ticket Prices:
Art Draw Tickets: $25.00 each or 5 for $100.00.

50/50 Tickets: 10 for $20, 30 for $50 or 75 for $100
Final Sales Deadline: January 16, 2023 11:59 p.m.
Draw Date: January 20, 2023 12:00 p.m.
Prize Information:  20 pieces of unique art (20 winners) as well as a one additional 50/50 prize! 
At the end of this campaign the winners will be notified in order drawn and must choose their preferred piece of art within a 48-hour time limit. If the winner does not contact the YMCA at fundraising@osgb.ymca.ca within the time frame the next person drawn will have their choice until all artwork is claimed. 
About the Art Draw
14 local artists have generously donated various pieces of artwork made in different mediums, including pottery and jewelry with values ranging from $100 to $500 per piece. Draw tickets are on sale now online at ymcaosgb.rafflenexus.com until 11:59 p.m. on January 16, 2023. Winners will be contacted by a YMCA staff member via email and phone as well as announced on this website and via social networks.   
The proceeds raised from our art and 50/50 draw will be used to purchase accessible equipment for our Health, Fitness and Aquatics Centre. As a charity that is dedicated to building healthy, strong and connected communities we continue to work towards improving access to spaces and specifically enabling our populations with disabilities and special needs to participate in programming. Removing barriers and increasing access to our facility will help improve the wellbeing of our community through health, fitness and recreation programming.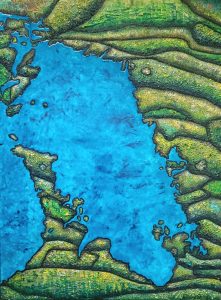 CLAIMED by DENISE REID
Elaine Ford – Title, Georgian Bay, acrylic, mediums & sand from Georgian Bay, on board – $450.00 – size 24 X 18
After a 30-year career in the television commercial production industry, I now apply my aesthetic sense to fine art painting!  I am inspired by the shapes and textures in every-day natural and man-made forms. In my work I try to convey the beauty and complexity of our surroundings using strong lines, color, shapes, and textures in order to help the viewer see the subject with fresh eyes.
As to the piece itself: www.elaineford.ca    Instagram: @elainefordart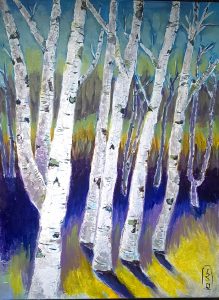 CLAIMED by Shawna MacIvor
Lynn Skinner – Title, Birches  acrylic on canvas – value $185.00. size 18 X 26
Began art career in Toronto's Markham Village at the New School of Art. Taught by artists of the day such as Dennis Career, Robt. Markle, Gord Rayner, and drawing exclusively from live nude models.  Graduated from the University of Guelph with a B.A in Fine Arts and a major in sculpture, under the tutelage of John Fillion.
Spent 3 yrs designing jewelry in Toronto's Yorkville district. Retired to Chatsworth and joined Studio 20 for a while with Peter John Reid. On my own, I paint for myself and fulfil commissions.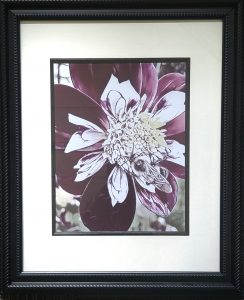 CLAIMED by Cheri Abaza
Gwynda McKee – Title, Beautiful Symbiosis – Photograph – bee on flower – value $300.00 picture with frame, size 23 X 19.5
I have been traveling and taking photos for decades but have taken photography more seriously in the past few years. As a member of the Owen Sound Camera Club for the past 6 years, I have learned some new techniques and approaches to
photography. My photos have been on display at the Owen Sound Library, the Tom Thomson Art Gallery, and Birgit's Café. 3 of my photos were selected by the
Owen Sound Art Banner Project and displayed along the harbor.
Looking through a lens helps to see the world differently, and you suddenly become more aware of your surroundings. I look forward to continuing to travel and capture all the opportunities presented.
CLAIMED by Denise Reid
Eleanor Pauling – Title, Owen Sound Harbour – Oil – $300.00, size with frame 32 X 25
Limited Edition – Although I didn't start painting seriously until into my 60's, in 2007 I opened the Bridges Art Gallery, as well as introducing artistic exchanges between the Museum of European Art in Clarence, N.Y, and artists from Owen Sound. I try to paint every day. It is the greatest joy that ever came into my life. I love to paint Bridges, Water, Skies and Mountains. Grey Bruce, especially Owen Sound, is known for all its wonderful bridges, and I have tried to capture the moment in time when I am painting them. The glorious atmosphere and spirit of Grey Bruce is captured in my artwork depicting local landscapes in oils and acrylics.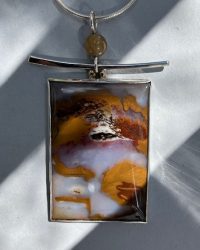 CLAIMED by Heather Salerne
Louise Jarvis – Necklace – rutilated quartz bead on 18" sterling silver chain –$300.00
Louse Jarvis started making jewelry in the late 1980's. She has always worked mainly in sterling silver, but also incorporates gold and semi-precious stones. Here designs have a fluid quality and a natural grace that puts the wearer at the centre of the design.
She taught classes in her home studio in Ontario, then lived on a Gulf Island in BC with a busy tourist trade for 10 years where the effect of nature and water – and beach pebbles! – influenced her designs.  Look for more Louise's work at –http://www.louiseojarvis.com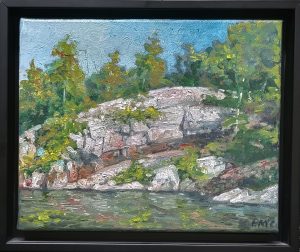 CLAIMED by Glenda Kerr
Pam McGowan –Title, Archipelago – Oil on board –  Value $150.00 – size 11 X 9.5
I'm a retired art teacher, living in the Big Bay area. I've been teaching art to children, teenagers, and adults internationally and locally, for over 25 years.
Currently I am a member of the Owen Sound Artists' Co-op, showing my clay sculpture. I will have a guest artist display in December for my paintings.
My latest painting medium of choice is oil. Sometimes they are framed, sometimes not. This painting I submitted for the Art Draw was a "study" for a larger one which has since sold. As a study for a larger painting.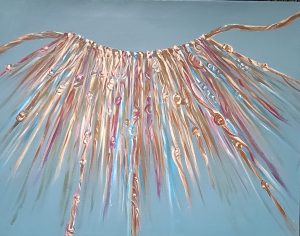 CLAIMED by Monique Brown
Gae Trinkwon – Title, QUIPU – (ancient Inca language) acrylic on canvas – value $300.00 – size 16 X 20
I have enjoyed the art of visual language for 30 years. I recreate by painting in acrylic and watercolor. I take my inspiration from life, everything I see, hear, feel, imagination. I like the quiet meditative time and being part of the artist community.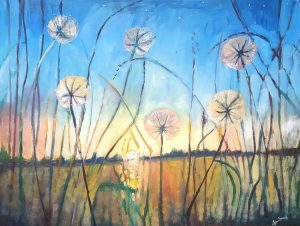 CLAIMED by Glenda Kerr
Lydia Knox –Title, They Greeted the Sun – painting on wood – value $499.00 – size 16 X 24
An artist who resides on the Bruce Peninsula, Ontario, Canada. She has been painting for over 30 years and participates in group shows in the area and as well in Toronto. Recently had a solo show in the Grey Gallery, Owen Sound, Ontario. A graduate of the George brown Collage fine arts departments, she also has a BA in English Literature. Using oil paints, her focus is on figurative and landscape, rendered in an impressionistic style with a magical twist. Her aim is to speak of the times we are in, reflecting on isolation that we are all going through the current time. Nature, and human speaks speak out through her painterly style. Everything tells a story; her job is to convey that story out through paint and canvas.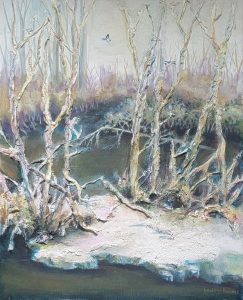 CLAIMED by Crystal Sneider
Lesley Bankes – Title, Why I like the Backroads – Acrylic with mixed media on canvas – value $300.00, size 16 X 20  
I love taking the back roads when I go to teach my art classes. I must have stopped 5 times to take photos on this day. It was very peaceful, a little foggy and the ice was starting to melt.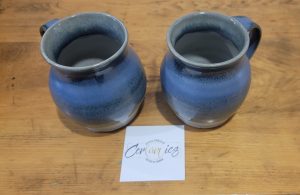 CLAIMED by Denise Reid
Amanda Millar – 2 hand crafted pottery mugs blue and grey tones – value $100.00
"Amanda began working with clay in 2019. She is mostly self-taught, and has had incredible mentorship from Potter Timothy Smith. She continues to work for Tim a couple of days a week while growing her own business. Amanda's work strives to be functional for every day, and speaks of classic contours and a timeless feel." Contact, Insta:@fullcircle.ceramics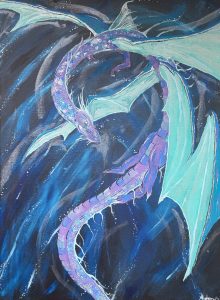 CLAIMED by Robert  MacArthur 
Cholena VanderPloeg – Title, Gale of the Wind – acrylic on canvas – value $300.00, size 23.5 X 18
I'm currently residing in Owen Sound as a full time student and an employee at the local YMCA. My passion for painting has grown as I have grown as an individual. It provides an outlet to digest emotions that would otherwise remain hidden beneath the surface. Over the past few years I have begun the challenging journey of bettering my mental health. This journey has included being diagnosed with PSTD. Painting has been a huge part of what has provided me a space to truly express myself. As I strengthen as an artist I try to continually learn new techniques and approaches to put into my pieces. I believe it is important to never stop learning in all aspects of life. I started my artistic journey in high school, moved on to painting murals for local organizations, and now have turned what seemed like projects into a passion.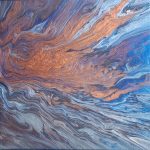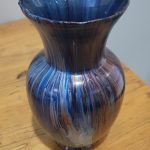 CLAIMED by Monique Brown
Michael Dunn –Title, Copper Blue – acrylic on canvas &  glass – value $150.00, size picture 11.5 X 11.5
I'm a retired educator who has lived in Grey/Bruce since 1982. I currently reside in Owen Sound with my lovely wife, lifelong partner and best friend, Jane. After retiring I began dabbling in oil panting as a pastime. Recently I have been introduced to acrylic flow art techniques. I find this allows the artist to experiment freely with color, texture, light and movement to create vividly expressive pieces that I personally find very satisfying.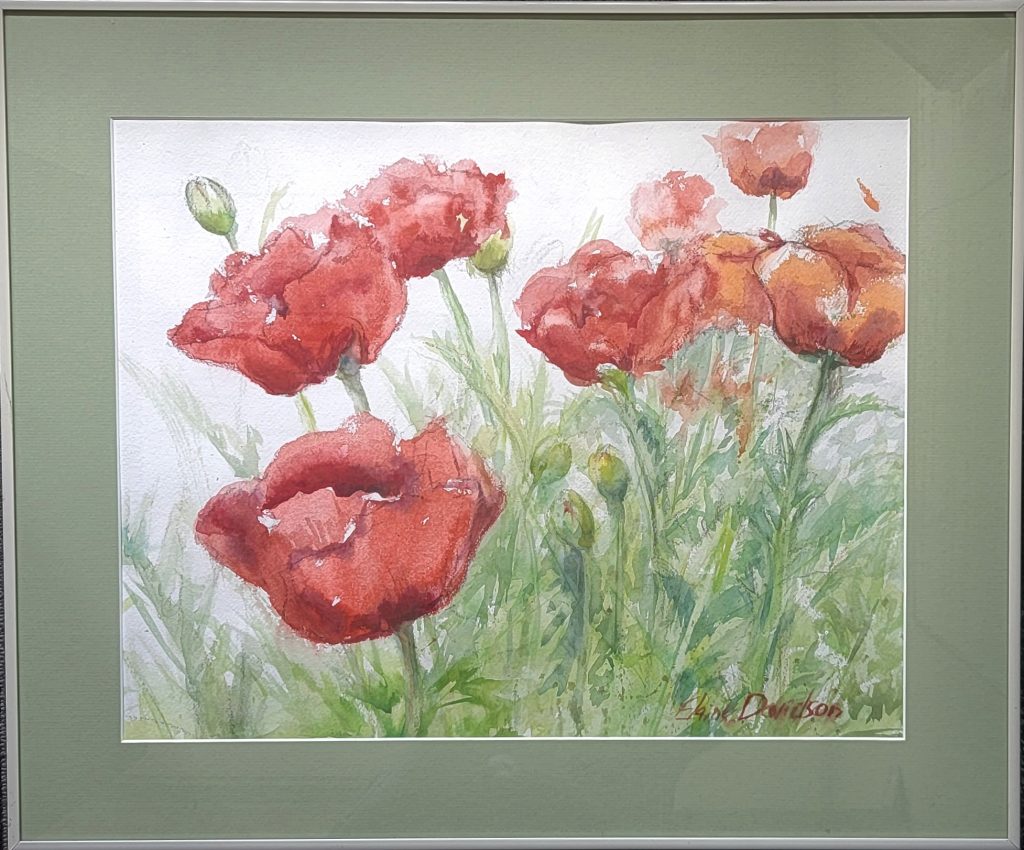 CLAIMED by Monique Brown
Elaine Davidson -Title, Poppies – watercolor on 140 cold press mat –- value $425.00 – size 29 X 24
I have been painting since 1996 had started out with drawing and watercolour, but since then have used many mediums, such as acrylic mixed media and collage.  Most recently have been using oil and cold wax.  I have taught art instruction in my lovely Church studio in Ben Allen.
My work can be found at the Owen Sound Artist Co-op, The Mill Pond Gallery in Cargill, and the Grey County Building.
If interested in any of my art, please call 519-371-7231 check out my blog at artistelainedavidson.blogspot.com for more samples of my work.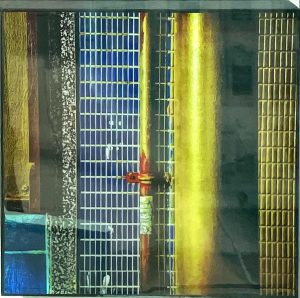 CLAIMED by Margaret Blender
Anne Kerekes – Title, Façade – Resined Digital Photo on Board – value $250.00. size 12 X 12
Anne Kerekes is a Toronto-based photographer who transitioned to the world of fine art after a career in Advertising. "I have always been interested in the power of imagery – a picture literally is worth 1,000 words. I am always looking for an unexpected vignette to capture – whether I'm in the city or country, at home or away. There is so much beauty in the most ordinary of things, if only we train our eyes to see"   Anne contact on Instagram @eye_see_life  
Art Banners (6 available. 5/6 have been selected)
Birch Panel by Janet Liesmer – claimed by Monique Brown
Lovely, Dark and Deep by Z'Anne Keele – claimed by Maggie Mann
Bejewelled Ring by Sarah Chisholm – claimed by Heather Salerne
Fall by Lisa Olsen – claimed by Monique Brown
Resolute by Erika Dick – claimed by Monique Brown